Is the New Jersey Supreme Court just days away from issuing a landmark gay marriage ruling? "Speculation is rampant because under New Jersey law Chief Justice Deborah Poritz must retire on her 70th birthday, which is Thursday, Oct. 26. It has generally been thought she would want a decision handed down before she retires. But Len Deo, president of the New Jersey Family Policy Council, said the decision could be issued after Poritz retires and still include her vote."

SMU Quarterback Justin Willis reinstated after hate crime accusation. Athletic director: "Several factors have influenced the decision to reinstate Justin. He is remorseful and contrite and has apologized for his actions. He understands that this was not acceptable behavior, and he has been penalized. He has been truthful and cooperative with all authorities involved in gathering facts on this matter. With lessons learned, it's time to move on."

White hairy moon rises over Mexico City during Robbie Williams performance at VMAs.

The Cleaning Hunk is back, with a few of his friends.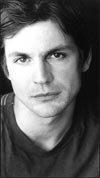 Queer as Folk's Gale Harold is soon to be on Broadway appearing in the new production of Tennessee Williams' Suddenly Last Summer. Playbill talks to Harold about that production and asks him about any perspective he has on his former role as sex-addicted Brian Kinney. Said Harold: "It was full of different experiences. Working with the cast and the directors and pushing myself to places I didn't expect to be in was very positive and difficult and frightening. I'm very grateful that I had the experience to do it. It opened some doors to me. Overall, it was very positive."

Tony Blair to give the Beckhams Lord and Lady titles?

Reichen Lehmkuhl talked to ABC's Good Morning America on Sunday about closeted life in the U.S. Air Force Academy and a sexual assault that inspired suicidal thoughts: "A bag was put over my head. I was stripped of my clothes. I was forced to do things sexually with two other male cadets. That's when you start having suicidal thoughts, and that's when you start saying, 'Oh my God. I am so stuck in this situation. I can't go to anyone." (video)