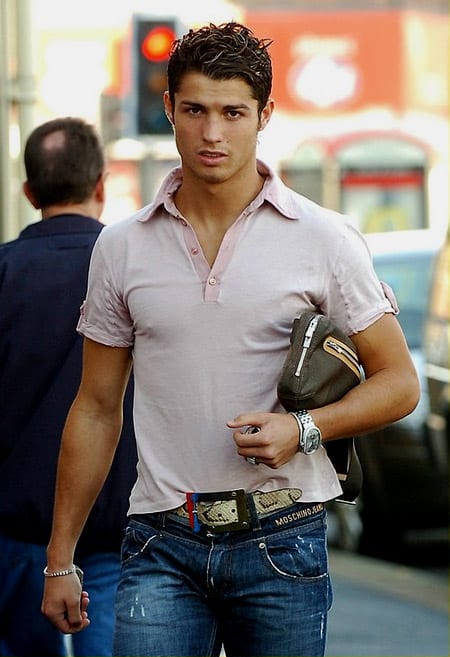 Cristiano Ronaldo was spotted shopping again in Wilmslow in Cheshire, UK over the weekend where the footballer demonstrated his skill for accessorizing as well as the best in the sport.
He also revealed some of his relaxation techniques to a Portuguese TV station over the weekend:
"In an interview on Portuguese TV, the 21-year-old winger lifted the lid on how he unwinds at home, away from the high-profile arena of top-flight football. He said: 'When I was mad once I put a television set up in a tree in my garden and tried to knock it down by kicking a football at it. And it worked! I was mad, really p***** off. I play football in my garden. I even broke a window once when we were playing outside. I made a pass to my cousin Nuno but the ball hit the glass and broke it! I also have boxing gloves to hit something or someone to relieve stress. And I like to play the Jambe – bongo drums – because it feels good.' Cristiano also admitted that he does not handle defeat well, and usually ends up hiding away in his spare bedroom after a bad day at the office. 'Sometimes when I perform badly or when things don't go the way I want them to, I come straight home,' he said. 'I eat something, follow the stairs, turn left, enter the small bedroom and lock the door. I just stay there.'"
And once in in the bedroom, additional relaxation techniques begin.
Two more shots after the jump…
You may have missed…
Looking Good at Louis Vuitton [tr]
Ronaldo and Rooney: Together at Last [tr]
Cristiano Ronaldo Plays Ball with Mere Mortals [tr]
(photo: source)