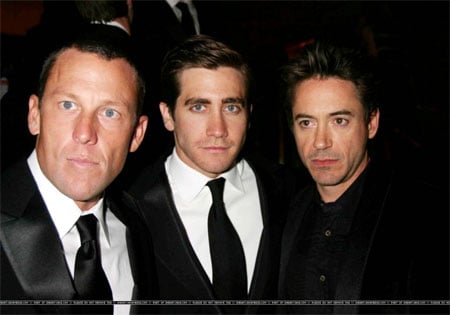 Although many of you may consider him the work of art rather than the artist.
Jake Gyllenhaal hobnobbed with future biopic subject and BFF Lance Armstrong and Zodiac co-star Robert Downey Jr. at an Americans for the Arts event where Jake was awarded the Young Artist Award for Artistic Excellence.
Jake was honored alongside Jeff Koons, Kitty Carlisle Hart, Aretha Franklin, and Sheila Johnson by the arts advocacy group at Cipriani in New York.
In somewhat related news, Brokeback director Ang Lee has joined the team creating the opening and closing ceremonies for the 2008 Beijing Olympics: "Interestingly, Chinese media reporting this appointment refer to Lee as the 'internationally renowned' director without referring to his nationality. China regards self-ruled Taiwan as part of "one China" and censors any reference that suggest its autonomy."
Click to enlarge. Two more Jake shots after the jump…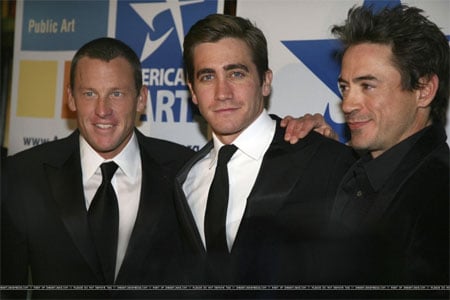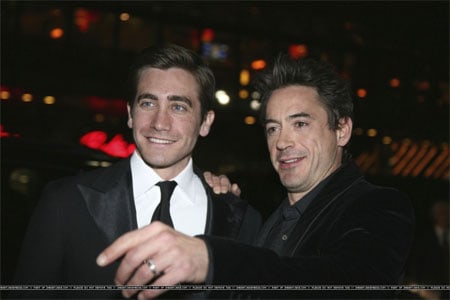 You may have missed…
Jake Gyllenhaal in Zodiac: New Film, Same Uniform [tr]
Jake Gyllenhaal and Jamie Lee Hit the Town [tr]
You Can Have Jake Gyllenhaal's Bone [tr]
Jake Gyllenhaal at the Beach [tr]
(photo source)