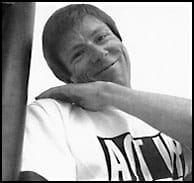 Back in 1995, when antiviral drug combinations that would prolong the lives of countless AIDS patients had not yet been introduced, Jeff Getty, an activist and experimental drug volunteer, became the first man to test a bone marrow transplant from a baboon as a way of combating the virus. Getty died a week ago in Joshua Tree, California. He was 49.
It was, in fact, the first time a bone marrow cell transfusion had been tried from one species to another. Though his health improved at first, the treatment was ultimately unsuccessful.
Described as a "fierce activist" by the New York Times, "[Getty] volunteered to test experimental drugs, and was jailed for demonstrating against pharmaceutical companies and for throwing a coffin on a hospital lawn to demand organ transplants for patients."
Desperate times called for desperate measures. Getty is survived by his partner of 26 years, Ken Klueh.