Michael Sandy was taken off life support Friday afternoon, according to WABC New York.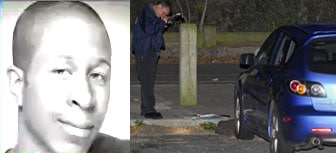 Sandy had been in a vegetative state since he was lured by four men in an internet set-up to a gay cruising area off the Belt Parkway in Brooklyn, robbed, and then forced into traffic by his attackers. Sandy was then struck by a car which fled the scene.
Three Brooklyn men — John Fox, 19, Gary Timmins, 16, and Ilye Shurova, 20 — were charged with first-degree assault as a hate crime, and first- and second-degree robbery, also as hate crimes at the 61st Precenct Station House yesterday. Charges are still being considered against a fourth, Anthony Fortunato, who was questioned and released.
The charges may be upgraded now, since Sandy has died.
Previously
Michael Sandy Clings to Life; Men Charged with Hate Crimes [tr]
Four Arrested: Attack on Michael Sandy was Internet Set-up [tr]
Gay New York Man Critically Injured After Attack, Hit-and-Run [tr]