Police are investigating both a hit-and-run accident that occurred on the Belt Parkway in Brooklyn as well as the separate events that led up to it. The incident involved a gay man, Michael J. Sandy, being forced into traffic by two attackers who then rifled through his pockets looking for something after he was hit by a car that fled the scene. Sandy is now on a respirator in critical but stable condition in Brookdale Hospital.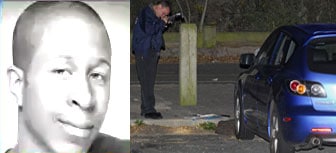 Despite the obvious signs of a robbery motive, police are also investigating the possibility of a hate crime. The victim was black and his attackers were white, and the crime took place in a parking lot reputed to be a gay cruising area:
"A focus for investigators yesterday was the parking lot itself, a 200-foot-long sliver of asphalt that is sandwiched between the highway and the dunes of the beach. Officers pored through the area, which is littered with assorted detritus, including beer bottles, cigarettes and condom wrappers, and at one point picked up a stick lying in a grassy area just west of the lot and placed it in a plastic evidence bag.
The area, marked by a shuttered kiosk that appears to house a bathroom and concession stand, is known as a meeting place for gay men in search of anonymous sex, the police, other officials and passers-by said yesterday."
Police found written directions to the parking lot in Sandy's car, but have not been able to interview him due to his condition. Witnesses reported that his two attackers appeared to be in their late teens or early 20's. They are still at large.
More on this as it develops…
Gay Bias Victim Clinging to Life [ny post]
Man Is Forced Onto Highway and Hit by a Car in Brooklyn [nyt]
Family Of Possible Bias Attack Victim Pleads For Witnesses To Come Forward [ny1] (video)