Anthony Fortunato, 20, was indicted on hate crime charges yesterday in the death of Michael Sandy. Ilya Shurov, 20, and John Fox (below right), 19, were charged last week. The three were charged with murder and attempted robbery as a hate crime using an extended definition which includes those who prey on a specific class of people.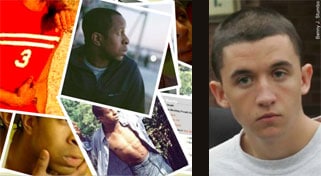 Said Homicide Bureau Chief Anna-Sigga Nicolazzi: "They were targeting someone based on a belief. Based on the evidence we have, they chose to target a gay man, believing that would make him an easier target. I think we were careful, in applying the statute, that we had the evidence that made the statute applicable."
The three men, along with 16-year-old Gary Timmins, who has yet to be charged, lured Sandy via an internet chat room to a parking lot on the Belt Parkway where he was robbed, and, following a scuffle, forced into oncoming traffic. He was then hit by a car and sustained injuries that would keep him in a coma until his family later made the choice to remove him from life support. Sandy died October 13.
If convicted, the three men face 25 years to life in prison.
Previously
Two Indicted for Murder as Hate Crime in Michael Sandy Killing [tr]
Michael Sandy Attacker 'Sorry', Cops Examine Web Gay Bash Trend [tr]
NYC Hate Crime Victim Michael Sandy Dies [tr]
Michael Sandy Clings to Life; Men Charged with Hate Crimes [tr]
Four Arrested: Attack on Michael Sandy was Internet Set-up [tr]
Gay New York Man Critically Injured After Attack, Hit-and-Run [tr]