A new high school named for openly gay civil rights activist Bayard Rustin opened in September in his hometown of West Chester, Pennsylvania.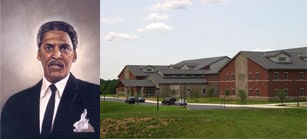 Rustin's work with Dr. Martin Luther King, Jr. on behalf of the civil rights movement is well-known, and the fact that he was openly gay was well known too, and used against him. In 1963 in the days preceding the March on Washington, Senator Strom Thurmond produced a photograph of Rustin talking to a bathing MLK Jr. and tried to imply that there was some kind of homosexual relationship between them. Thurmond hoped the allegations would destroy the event, but his bigoted plans were thwarted when King stood up for Rustin.
Rustin also worked for New York State's gay rights bill. A year before his death in 1987, Rustin said: "The barometer of where one is on human rights questions is no longer the black community, it's the gay community. Because it is the community which is most easily mistreated."
How unhappy would Rustin be that the high school named after him in his home town prepared a bio for him on its website, but makes no mention of the fact of his work for gay rights, or that he was gay at all?