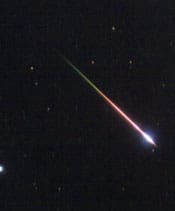 You boys and girls in the eastern part of North America and Western part of Europe will have a show this Saturday night/Sunday morning, as the Leonid meteor shower peaks with up to 150 shooting stars per hour.
An MIT physics professor thinks he has the solution for wireless
charging of batteries in portable devices such as cell phones and MP3
players. Using electromagnetic waves, batteries could be charged
without the use of wires and plugs. The AP reports that "Soljacic envisions a device with wiring loops mounted on the ceiling of
a room. He even sees this as a way of recharging electric buses on the
go if there's a large 'pipe' with recharging energy above a highway."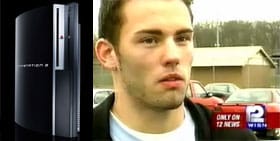 After enthusiasts waited for hours, or in some cases days, the Sony PlayStation 3 sold out in mere minutes during its US launch, according to NewsFactor Networks. People may have been putting their lives on the line for the game console: in Connecticut, a man was shot by thieves that targeted a group waiting overnight outside of a Wal-Mart store, while elsewhere stampedes of frenzied shoppers were reported. One young man (pictured, see video link) even had his face slammed into a metal flagpole in a melee outside Milwaukee. Hot, but not too bright.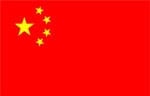 The Chinese government lifted the ban this week on Wikipedia.com. Andrew Lih, a Chinese-American former academic and Wikipedia specialist reported on the lifted ban: "In the end, I believe consensus among the authorities determined the benefits of Wikipedia far outweigh the risks."
Lycos Cinema launched, which will combine film and video watching with social features such as chat. The company, which nearly disappeared after the dot-com bust, hopes that its proprietary technology is unique enough to gain an audience.
Noted technology analyst Michael Cai: "This is an effort to become cool again, in the Web 2.0 era."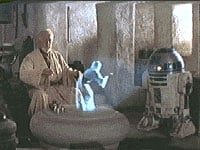 "Help me, Obi-Wan, you're my only hope!" Samsung's research and development team announced some of the innovations that are coming down the pipe for cell phones, including 3-dimensional holographic displays. Other features include sensors that monitor the health of users, and far greater processors and storage capacities.
MP3.com has re-launched this week, with a renewed effort to promote independent and unsigned artists by allowing them to make mp3s and videos available for download. The company, which emerged during the illegal Napster-era of the music download boom, had in recent years focused on editorial content. They're now looking to compete with MySpace as a destination for indie artists to share their work and build a fanbase.
Apple has placed an order for 12 million iPhones with a Taiwanese manufacturer. Just what those phones will look like, or when they will arrive, is anyone's guess. In other Apple news, as we mentioned earlier this week, a total of six airlines, including Delta, United, and Continental, will outfit their planes with iPod specific technology that allows users to watch video content on seat-back monitors, listen to music, and charge their iPod during a flight.
Daniel Williford is our TowleTech correspondent.

You can visit him at his blog, Until Today…