**WARNING SPOILERS**
Last night I had the opportunity to see one of the first screenings of Dreamgirls, the Bill Condon film adaptation of the Broadway musical, and Condon has pulled off an inspiring and transcendent new classic. The musical production comes alive in its cinematic form so fluidly that at times you almost forget you're not watching a live production. I can't remember the last time I saw an audience provide such physical and vocal responses to onscreen performances. It's a great feeling to come to a film with high expectations and have them exceeded as that's so often not the case.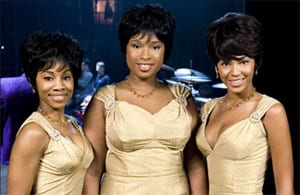 You might think that with star power like Beyoncé, Jamie Foxx, Eddie Murphy, and Danny Glover that the jockeying for the spotlight would be intense, but there is really no competition here. This is Jennifer Hudson's movie and she is astonishing.
Dreamgirls will make Jennifer Hudson a superstar. Her vocal performances are epic. No less than four times did the audience erupt into spontaneous ovations as she finished her numbers.
The pivotal scene on which the plot of the movie spins, when Effie is told that she's been forced out of the Dreamettes, is delivered in a dazzling musical one-two punch. As the number "It's All Over," a tour-de-force in its deft boxing match-like staging between Curtis Taylor, Jr. (Foxx), Deena Jones (Beyoncé Knowles), Lorrell Robinson (Anika Noni Rose), and Effie (Hudson) winds up we are left with Effie realizing, defiantly, that she's having her dream snatched from her. The movie takes a beautifully-choreographed deep breath before Hudson slides into her solitary and powerful rendition of "And I'm Telling You". This is the moment in the film everyone will be talking about. Hudson's chill-inducing performance made every hair on my scalp stand on end.
As an audience member there's no way to avoid looking at Hudson's performance against Beyoncé's, or to avoid noticing the way in which the show's plot mirrors the offscreen trajectory of these singers. At one point, Taylor points out to Deena Jones that she's being put up as lead singer because her voice is bland and has no character. Effie is the one with the voice, but she's being relegated to the back row because she is the 'ugly duckling'.
And you root for Hudson because of this. She does not have Beyoncé's model looks (which undergo their own stunning metamorphosis during the film) or her figure, and the filmmakers make no attempt to hide Hudson's heft in the film. But the differences only make you root for Effie even more. Hudson owns this film. It is all hers, and it is beautiful to watch, at the same time realizing that Hudson's real-life story (from American Idol contestant to what should and will be an Oscar-nominated star vehicle) bears an uncanny resemblance to the one unfolding before you.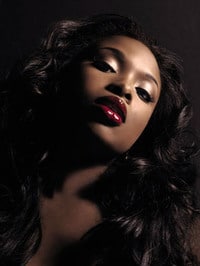 Make no mistake. Beyoncé turns in a rock-solid performance which in a world without Hudson would garner acclaim. "Listen," one of the new and welcome additions to the show's set of stand-out tracks, wakes you up to the fact that there is another great singer in this movie, but in the end it's like holding a candle to Hudson, who has shot into Hollywood like a brilliant comet.
Fortunately for Sharon Leal and Anika Noni Rose (the other two members of the Dreams), the strength of the other singers offers them some deserved coattails to ride into the public's awareness, but they're essentially bit players here. Jamie Foxx gives a polished performance as the show's villain, but the return of Eddie Murphy makes it difficult for him to get in the spotlight. Murphy is as entertaining as ever as James 'Thunder' Early, the womanizing soul singer who offers the Dreamettes their first opportunity. Keith Robinson, as Effie's brother CC White, delivers a standout performance as well.
The wardrobe and sets in Dreamgirls bring back the slick, glistening environments of the late 60's and early 70's, and in the production is an obvious love for the glitz and excitement of live performance. This is not Evita whose characters were given little or no chance to breathe between numbers. And it is more three-dimensional and ebullient than Chicago. Dreamgirls is on its way to the Oscars.
Related
Dreamgirls Underway [tr]
Dreamgirls: A Featurette [tr]