Attorney General: Gay couples married in Massachusetts may file joint tax returns in Washington D.C., but city's tax and revenue office may reject them: "The unexpected move by Attorney General Robert J. Spagnoletti places new pressure on Mayor Anthony A. Williams (D) to decide whether gay unions will be recognized in the nation's capital, potentially injecting it into the battle over gay marriage that roiled the 2004 presidential election and prompted an unsuccessful push in Congress for a constitutional amendment banning the practice."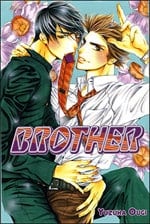 It's a phenomenon that resembles the heterosexual male interest in lesbian porn, yet the Village Voice reports that rabid interest in yaoi comics by underage females may contribute to the downfall of the genre as awareness grows that many of the young men pictured in the sometimes explicit boy-on-boy drawings appear underage.

Gay Survivor contestant Brad Virata called "Nancy Boy" in effeminate, lispy voice by fellow competitor.

Debate on gay marriage draws hundreds in Virginia.


The unambiguously gay duo hits the Big Apple to hawk books…

Gay-friendly motels in Brazil launch ad campaign: "Here we don't mind men with men, or women with women."

Paper: Senior congressional aides participated in "damage control" conference calls concerning Mark Foley two days before the scandal broke and earlier than previously reported: "ABC News approached the Foley campaign on Tuesday, Sept. 26, with a set of e-mails in which Foley asked a former page for his photograph. The conference call the next evening, described by a Capitol Hill staffer familiar with the talks as focused on 'damage control,' also included Foley's Florida-based political consultant, Richard Johnston, and his communications director, Jason Kello, according to two people familiar with the call."