In mid-October, Houston landscapers Sabrina and Todd Farber made headlines with their decision to decline to work for a gay man and his partner. In an email response to the couple's inquiry for a quote, they wrote: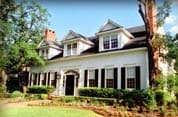 "Dear Mr. Lord, I am appreciative of your time on the phone today and glad you contacted us. I need to tell you that we cannot meet with you because we choose not to work for homosexuals. Best of luck in finding someone else to fill your landscaping needs. All my best, Sabrina."
The email went viral, catching the attention of the mainstream media. Saturday, in a follow-up interview, Sabrina Farber told the New York Times that, because of the attention, their company has picked up $40,000 in business in the past two weeks.
Said Farber: "I'm not saying that to gloat. Why can't people handle it when you say the truth?"
The Times notes that the law, in this case, is on the Farbers' side: 'The federal law of public accommodations says if you hang out a shingle or open your door you don't get to say, 'Only to whites,"[Lisa Graybill, legal director of the American Civil Liberties Union of Texas] said. But sexual orientation is not protected. And while some localities, like Seattle, have adopted ordinances extending antidiscrimination protection to gay men and lesbians, she said, Houston has not."