The average American with HIV now lives for 24 years at a health care cost of $600K.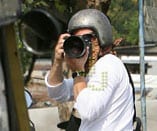 Brad Pitt turning the tables on the paparazzi?

What's behind the narrowing of the "God gap" in the recent election? "Religious liberals contended that a concerted effort by Democrats since 2004 to appeal to people of faith had worked minor wonders, if not electoral miracles, in races across the country. Religious conservatives disagreed, arguing that the Republican Party lost religious voters rather than the Democrats winning them."

ABBA legends Agnetha Faltskog and Frida Lyngstad to record with Madonna on follow-up to Confessions on a Dancefloor?

Culture Club postpones its reunion tour after Boy George labels band's new frontman Sam Butcher "dreadful." Said drummer Jon Moss: "The only person George loves is George. He's like a nightmare ex-wife."


Gay escort and Ted Haggard exposer Mike Jones exposed himself in 1998. Boy Culture has the NSFW goods.

Conservative Christians urging Thanksgiving boycott of Wal-Mart over an "affiliate" link on a gay organization's website.

Lobby Congress to pass the Defense of Britney's Marriage Act: "One of the arguments opponents of gay marriage make is that every child needs exactly one mother and one father to grow up to be a healthy adult. Isn't it clear that Britney's and K-Fed's children also need a mother and a father?" Federline threatens release of Britney honeymoon sex vid…