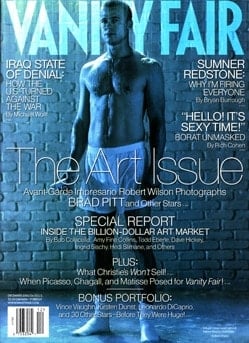 Although Brad Pitt signed a release for the photos shot by avant-garde film director and artist Robert Wilson, part of a video portrait project in which he poses in boxers with a toy gun, he was surprised to see himself on the cover of Vanity Fair.
Pitt is currently considering his legal options, which may be few, according to what VF reps told TMZ: "In a letter dated October 5, 2006, and sent to Pitt care of Brillstein-Grey [Pitt's managers], Wilson informed Pitt that a still image from his portrait was going to be featured in the December art issue of Vanity Fair. Brad Pitt posed for a Robert Wilson video portrait, and in the photo release (signed by Pitt), agreed to allow Wilson to use the portrait or any images from that sitting in connection with any publicity on Wilson's video project. Vanity Fair decided to do a story on Wilson's video portraits and obtained rights to the entire collection of photographs from those sittings, which included Pitt's."
Said Pitt's people: "We are very disappointed that Vanity Fair has chosen to put an unauthorized cover on their magazine. It seriously makes me question their integrity and motives."
The motives seem clear to me: sell lots of magazines using Brad Pitt's shirtless body. As far as integrity goes, this one seems to fall into the 'act first, apologize later' category.
You may have missed…
Brad Pitt and his Hungry Bottom [tr]
Brad Pitt Will March Down the Aisle When the Gays Can [tr]