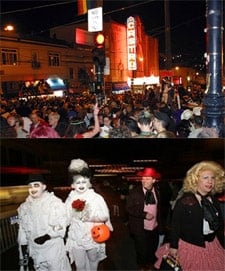 Up to ten people were shot last night when a gunman opened fire on the crowd as the massive Halloween bash that occurs each year in San Francisco's Castro district began to wind down.
According to the SF Chronicle, "Police officer heard shots fired around 10:40 p.m. Tuesday, as they began dispersing thousands of revelers under a new curfew that was aimed at controlling the traditionally raucous event in the city's gay and lesbian community. They arrived on Market Street, about a block from the main stage, to find victims scattered along about two blocks."
Increased police presence due to climbing levels of violence and gay bashing in recent years apparently made no difference. One security guard for the event told the Chronicle, "When the shooting happened, people just dove to the ground like a wall of water."
The early number of injuries (two life-threatening) was thought to be seven, but officials later identified three additional victims.
Related
Vintage Gay Castro Images and Harvey Milk
Car Accident Ignites Massive Blaze on Castro Street [tr]