Late last week, using the site of America's last failed war as a backdrop, George Bush referred to the war in Iraq adopting Henry Kissinger's well-known posture about the U.S. war with Vietnam, saying "We'll succeed unless we quit."
Unfortunately, Kissinger declared an Iraq military victory impossible in an interview on Sunday, thus inspiring Bush to persuade world leaders to dress up as wizards in hopes that a spell might magically turn things around.
Actually, the dress-up day is a tradition for the APEC summit, where world leaders don traditional garb from the host country, in this case the ao dai, normally reserved for wedding dresses and schoolgirl uniforms.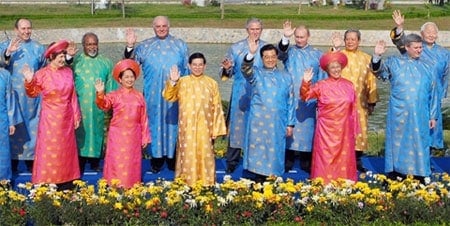 Still, our dear leader appears a bit flummoxed by the pageant choreography. Of course, "playing well with others" has never been one of Mr. Bush's strong points.