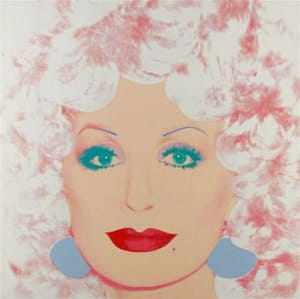 Controversy has sprung up around a Dolly Parton portrait said to be an Andy Warhol that was put on the block at Sotheby's blowout contemporary art auction last week. Expected to fetch $1.5 million, interest in the portrait fizzled and it failed to sell.
Horst Weber, an artist who produced thousands of Warhol images from stock photos that Warhol sold as his own, tells the New York Post it's likely one of his: "Although we made many paintings of Dolly Parton, I remember this particular one as I decided to make it with sugary colors. And the fact that this painting of Dolly Parton is unsigned means there is a very good chance that Warhol had never actually laid eyes on it."
Weber also claims it's a painting that Parton's manager Sandy Gallin rejected in 1985 because it wasn't Warholian enough, citing an entry in Warhol's diary: "[His] secretary got on and said, 'Ohhh, Sandy's soooo embarrassed' – that it just doesn't look like my art . . . And after 15 minutes, she popped the question: Could he get his $10,000 deposit back?"
Sotheby's stands by its claim that the work is authentic.
The New York auction season has resulted in an "astonishing" $1.3 billion taken in by auction houses in the last two weeks.
You may have missed…
Art Market on Fire: Auctioned, Sold, and Stolen [tr]
Dolly Parton Gets Ready [tr]