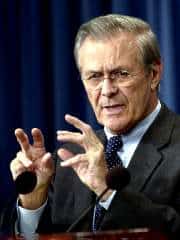 The dominos continue to fall.
After acknowledging the results of last night's Democratic takeover of the House, George Bush announced that Donald Rumsfeld will step down as Secretary of Defense. Bush nominated Robert Gates, former head of the CIA, to replace Rumsfeld. Gates is currently the President of Texas A&M University.
Said Bush: "After a series of thoughtful conversations Secretary Rumsfeld and I agreed that the time is right for new leadership at the Pentagon."
The talk of a "fresh perspective" is something entirely new for America's "stay the course" president.
According to Bush at his press conference today, "stay the course" means "constantly adjusting".
When asked about statements last week that Rumsfeld was staying on, Bush replied, "I didn't want to inject a major decision about this war in the final days of this campaign. I hadn't had a chance to visit with Bob Gates yet. I hadn't had a chance to talk with Rumsfeld yet. He and I both agreed in a meeting yesterday that I would accept his resignation."
Regarding yesterday's election, Bush said, "I thought we were gonna do fine yesterday. Show's what I know."