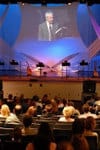 The Christian Coalition, an organization of over two million members that was founded in 1989 by Pat Robertson, lost its president-elect — the Reverend Joel C. Hunter (pictured on screen) — last week because the group "wouldn't let him expand its agenda beyond opposing abortion and gay marriage."
Apparently poverty and the environment, "issues that Jesus would want us to care about" according to Hunter, were of no interest to the group.
Said Hunter: "They pretty much said, 'These issues are fine, but they're not our issues, that's not our base.'"
Would Jesus have considered the poor and the natural world his base?
President-elect of Christian Coalition of America declines the job [ap]