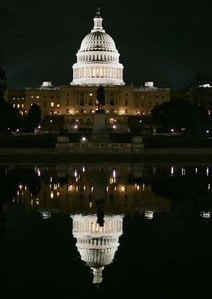 Democrats take majority in U.S. House of Representatives!
"By early Wednesday, Democrats had won 221 seats, enough to control the House, and were leading for another 13, which would give them 234. Republicans, who hold 229 seats in the current House, won 181 and were leading in another 20, which would give them 201. Democrats had won 25 Republican-controlled seats, and no Democratic incumbent had lost by early Wednesday. Races were too close to call in more than a dozen seats, making it impossible to know how large the Democratic margin would be."

U.S. Senate may go Democrat too. Virginia, Montana crucial…

Nancy Pelosi to be first woman Speaker of the House. Pelosi: "Today the American people voted for change and they voted for Democrats to take our country in a new direction. That's exactly what we intend to do."

Democrats pick up six governor seats from Republicans, retain every seat they held in 14 states.

Rick Santorum out in Pennsylvania. Concedes…

Gay Marriage Ban looks headed for defeat in Arizona. Would make Arizona one of first states in the nation to defeat such an amendment.

Amendments banning gay marriage pass in Idaho, South Carolina, Tennessee, Virginia, Wisconsin, Colorado. However, voting trends show evolving attitudes. Matt Foreman, Gay and Lesbian Task Force: "Two years ago we had 11 of these on the ballot, and in only two of them did we do better than 40 percent. This year there were eight and in at least five of them we did better than 40 percent."

Corruption "most important issue" to voters…