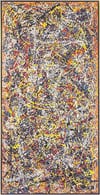 Art "experts" with knowledge of the transaction say that David Martinez, "the Mexican financier who bought a two-floor apartment in the south building of the Time Warner Center for $54.7 million recently" purchased "No.5, 1948", a Jackson Pollock 4′ x 8′ drip painting, for $140 million from David Geffen. If the purchase price is correct, it would be the highest amount ever paid for a painting.
It would break a record set in June when Ronald Lauder purchased a Gustav Klimt painting for $135 million.
Speculation is that Geffen is filling his coffers for a possible purchase of the L.A. Times.