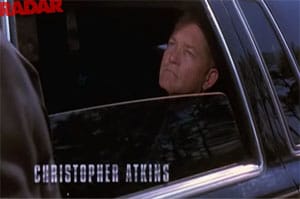 Mark Foley's stay at the Sierra Tucson rehab facility has been extended beyond the standard 30 days, according to ABC's The Blotter: "Today Foley's attorney told the Associated Press that Foley will stay longer but did not specify how long." Does anyone want to place any bets on the date? November 8 perhaps?
In other Foley news, yesterday Radar Online noted that Foley "was adept at playing the role of a Republican congressman trying to save at-risk kids." Not only in Congress, but on screen as well. His bit part in the 2001 film The Librarians (later released on DVD as Strike Force
) features Foley playing a congressman who "hires a band of violent, jet-setting vigilantes to rescue his kidnapped daughter."
And here's the clip. The Blotter reports that the movie has been "flying off shelves."
Perhaps once the dust has settled Foley can restart a career in acting. He's had the practice.
You may have missed…
NBC Correspondent Chip Reid: Foley Case "is Going to Widen" [tr]
Trandahl: Jim Kolbe (R-AZ) a "Problem Member" for Pages [tr]
HRC Employee First Published Foley Emails [tr]
For the complete Foley wrap-up, follow the jump…
You may have also missed…
Gay Republican Round-up: Mark Foley Spotted in Austin, Texas? [tr]
Inebriated, Foley Attempted Access to Page Dorm: Kirk Fordham to Testify [tr]
Hastert, Kolbe Continue to Spin Foley Scandal: Republican Leaders Contradict Earlier Statements [tr]
Foley Scandal Continues to Stir Gay Republican Pot [tr]
Mark Foley: The Early Years [tr]
Former Page Jim Kolbe Knew of Mark Foley's Emails in 2000 [tr]
Pat Buchanan on that "Flamer" Foley [tr]
Barney Frank: "Gay GOP Like Secret Jews" [tr]
Hastert Asked "To Intervene" on Foley Three Years Ago [tr]
Mark Foley's Indiscretions Began in '95, as did Cover-Up [tr]
Foley is Gay, Says Attorney; Was Molested by Clergyman as Teenager [tr]
The Talk: Foley, Jon Stewart, Hastert, Bay Buchanan [tr]
Mark Foley Scandal Updates [tr]
Investigations Begin into Cover-up Surrounding Mark Foley: Republican Leaders Knew of Misdeeds for Five Years, Did Nothing [tr]
Political Page Turner: Rep. Mark Foley Resigns Seat Over Inappropriate Emails [tr]
Male Page and Rep Mark Foley in Troubling Email Exchange [tr]