Elton John sat down for an interview with Australia's Seven Network in Sydney to chat about, among other things, his civil partnership with David Furnish: "It was just a commitment I wanted to make because I love him, and vice-versa, and it was just a great day."
Elton recently arrived in Sydney after puking his way through Brisbane.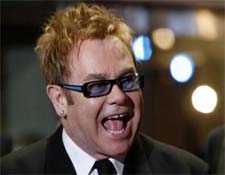 In the interview he slammed John Howard when asked if he had a message for the anti-gay Prime Minister. Said Elton to the PM: "Up yours."
Howard's most recent action against same-sex unions was to veto legislation proposed by the Australian Capitol Territory (ACT) that would have legalized them.
Said Howard before the veto: "This is not an anti-homosexual gesture. This is a gesture to support the special and traditional place of marriage as a heterosexual union for life of a man and a woman in Australian society. Why we're against what the ACT is doing is that, in all but name, they are equating same-sex unions with marriage. I don't support that, not because I'm against homosexuals, but I think there should always be a margin for marriage as we understand it in our society … you don't equate a gay union with a traditional marriage – that's our position."
You may have missed…
Aussie Prime Minister John Howard: I'm Not Anti-Gay [tr]
Chaos in Windsor as Two Queens Marry [tr]