>> UPDATED <<
Prominent anti-gay evangelical Pastor Ted Haggard, the head of a "megachurch" with ties to the White House, stepped down today as president of the National Association of Evangelicals after gay escort Mike Jones claimed he had a three-year "sexual business" relationship with Haggard. Jones also told a radio show host that he has recorded voicemails and a letter from the pastor, and claims that the Haggard used methamphetamine in his presence on several occasions.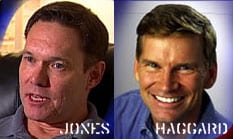 Haggard is the founder of the 14,000-member New Life Church based in Colorado Springs. He is married with five children.
Think Progress notes: "Haggard is president of the National Association of Evangelicals, representing more than 30 million conservative Christians. Time Magazine ranked him as one of the 25 most influential evangelicals and Harper's contributing editor Jeff Sharlet noted, 'No pastor in America holds more sway over the political direction of evangelicalism than does Pastor Ted.'"
Haggard also has ties to the White House and claims he has "direct access" to George Bush, and can get the President to return his phone calls within 24 hours.
Here's a video of Haggard preaching against homosexuality from the recent documentary Jesus Camp:
I guess now we may know what pastor Ted did last night too.
Haggard responded to Jones' claims: "I did not have a homosexual relationship with a man in Denver. I am steady with my wife. I'm faithful to my wife. I don't know if this is election year politics or if this has to do with the marriage amendment or what it is, but I'm not even the guy who will investigate it or question it. I don't know what the dynamics are, but this independent group will come in and do that."
Jones said he felt he had to come forward and expose the hypocrisy: "People may look at me and think what I've done is immoral, but I think I had to do the moral thing in my mind and that is expose someone who is preaching one thing and doing the opposite behind everybody's back."
Man claims 3-year sexual relationship with pastor [9news]
Jones interview [wmv – 9news]
Haggard interview [wmv – 9news]
(thanks joemygod)