Independent Spirit Award nominees announced: American Gun, The Dead Girl, Half Nelson, Little Miss Sunshine, Pan's Labyrinth up for Best Feature.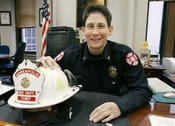 The nation's first openly lesbian fire chief Bonnie Bleskacheck steps down after lawsuits accuse her of harassment and discrimination: "Three female firefighters have sued, alleging various acts of discrimination and sexual harassment. Two of the lawsuits were settled, but earlier this month, a male firefighter brought another lawsuit alleging he was denied advancement because he is male and not gay. A city investigation is still under way. This summer, a separate investigation by the city's Department of Civil Rights into a 2003 complaint by a male firefighter _ brought when Bleskachek was a battalion chief _ found it 'likely' that the department gave preferential treatment to lesbians or those who socialized with them."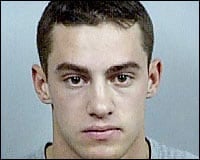 Timothy Boham (aka porn actor Marcus Allen) was scheduled to appear in a Denver court today on charges he murdered his boss, openly gay businessman John Kelso.

Ricky Martin gets cheeky in Ocean Drive photoshoot.

Is gay as a film genre dead? Brent Hartinger looks at how other genres may be co-opting gay characters: "We've had gay mysteries (here! Networks' Donald Strachey mysteries), gay horror (Hellbent), a gay teen sex comedy (Another Gay Movie), a gay boxing movie (Fighting Tommy Riley) and even a gay science fiction movie (here! Networks' Deadly Skies, about a gay scientist, played by Antonio Sabato Jr., who helps prevent a meteor from crashing into Earth). None of these projects are 'about' the gay experience, even if the gay element sometimes adds an interesting thematic twist. Except for the gay characters, these are mostly the kinds of stories we watch when we're not busy being gay consumers."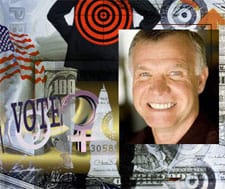 Fighting anti-gay candidates with the pink dollar: Salon reports on wealthy donors like Coloradan and Quark founder Tim Gill who poured millions into the recent election to defeat anti-gay measures and candidates around the country.

Hazing charges against Vermont fraternity thrown out: "UVM officials suspended the fraternity based on rumors the pledges had been forced to dress up as Brokeback Mountain cowboys — subjected to homophobic insults — and forced to drink at a party in February."

Two bears meet in the woods…

Report: Heath Ledger and Michelle Williams to marry.

The Top 10 naked people on Google Earth.