Wednesday night almost seems like ancient history, but James Dobson's appearance on Larry King Live is too rich to overlook.
Dobson told King that he excused himself from the "three person restoration panel" overlooking his "close friend" Ted Haggard because it might be 2010 before Haggard is heterosexual:
"I called my board of directors, we talked about it at length and they were unanimous in asking me not to do that, because this could take four or five years and I just have too many other things going on."
Dobson says he hasn't talked to his "close friend" since it happened. Dobson also told King that liberals have no values, Congress was "courageous" in trying to intervene in the Terri Schiavo case, and the separation of church and state is not in the Bill of Rights.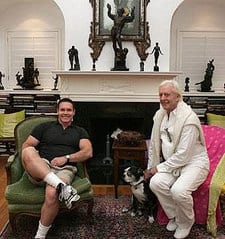 Meanwhile, in Miami over the weekend, gay escort Mike Jones sat down with author David Leddick who is writing a new book called Escort, featuring escorts, their profiles, and photographs. Said Leddick: "Forty profiles with photographs of men who sell sex. I'm not taking a moral position myself. It's fascinating." Jones is to be the centerpiece of that book.
Jones told the Miami Herald that he has received plenty of criticism from other escorts angry that he disrespected the privacy of the escort/client relationship. But he said the hypocrisy was too much: "All the escorts are [angry] with me. This was such a unique situation. I could have ruined many careers in my day. A lot of politicians and athletes and clergy. But none of them got up and ranted and raved about homosexuality."
He has also been criticized for the tumult created within the pastor's family by going public. His response: "People have scolded me for that, particularly right-wing people. But did Ted Haggard go to his wife and say, 'I'm going to have a gay affair. Is this going to hurt you and the kids?' I don't want to have this guilt over my head."
Jones also wants to make sure the public knows he's not a prostitute: "I was an escort, all right? Not everyone I went with wanted sex. I think I give escorts a good name."
You may have missed….
Hating Begins at Home: The Creation of James Dobson [tr]
Ted Haggard Letter: "I am Guilty…a Deceiver and a Liar" [tr]