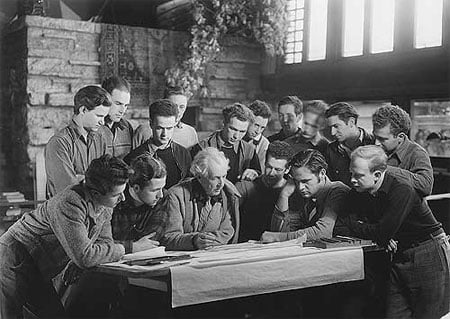 The Fellowship
, a new book said to be more about the relationships in Frank Lloyd Wright's life than his buildings discusses the contradictory relation of the architect's worldviews on sexuality with his friendships and workplace. This includes he and his wife's relationship with apprentices who, according to the authors, "ranged from sexual predators to doe-eyed innocents yearning to be exploited for the cause of Architecture."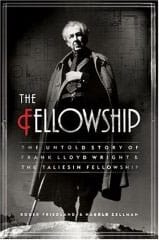 Wright espoused an anti-gay worldview in public but had many close relationships with gay men, the authors say (hmmm, sound familiar?):
"Although they acknowledge that Wright was not gay, they dwell endlessly on his supposed effeminacy and close relationships with gay men. 'Manhood did not come easily to Frank Lloyd Wright,' they write. 'He loved beauty — both his own and the world's — a little too much.' His relationship with his mentor, Louis Sullivan, embraced 'all the arts and perhaps more,' and was 'energized by passionate identification.'"
Wright and his wife in particular, had a curious way of boosting morale among his apprentices: "Under their supervision, the apprentices built the Taliesin complexes in Wisconsin and Arizona, tilled the land, chopped wood and shoveled manure. At one point, Olgivanna encouraged the sexually frustrated young men to take up with one another, even forming 'sex clubs' to teach them how. (She later founded a corrective heterosexual version when things got out of hand.)"
Another class of erections entirely.
The Fellowship: The Untold Story of Frank Lloyd Wright and the Taliesin Fellowship
[amazon]
The Apprentices [nyt]
(source)