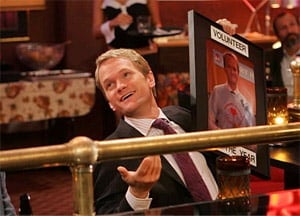 Less than two weeks after a columnist at Canada.com suggested that actor Neil Patrick Harris (still familiarly known to many as Doogie Howser, MD), 33, had offered his "longtime sweetheart" David Burtka a role on the sitcom How I Met Your Mother, Harris has come out of the closet.
Canada.com's claim that Harris was involved with a man inspired an alleged denial from Harris' publicist that was published without attribution by ContactMusic.com. They quoted a Harris publicist as saying, "He's not of that persuasion."
Harris was apparently as displeased by the reported statement as many others were. In a statement to People magazine, Harris appeared keen on quashing the reports that he had denied it.
Said Harris: "The public eye has always been kind to me, and until recently I have been able to live a pretty normal life. Now it seems there is speculation and interest in my private life and relationships. So, rather than ignore those who choose to publish their opinions without actually talking to me, I am happy to dispel any rumors or misconceptions and am quite proud to say that I am a very content gay man living my life to the fullest and feel most fortunate to be working with wonderful people in the business I love."
EXCLUSIVE: Neil Patrick Harris Tells PEOPLE He Is Gay [people]
Related
Grey's Anatomy Actor T.R. Knight: "I'm Gay" [tr]
Lance Bass: "I'm Gay" [tr]