Authorities investigate both Ted Haggard and Mike Jones: "Denver police want to know who supplied the drugs and exactly what role Jones played in the drug use. He may also be under investigation for prostitution a police source said Monday."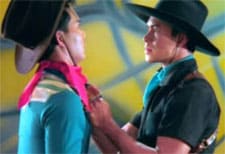 Brokeback Mountain spurs surge in Thai cowboy films. A special collector's edition DVD of Brokeback is coming on January 23. The two-disc edition will feature never-before-seen footage as well as collectible postcards.

New "GAYdar reality show casting: "We are looking for gay MEN between the ages of 21-35. You must be single, attractive and have a very outgoing personality. Were gonna set you in a straight dating situation and have you act straight while dating a single, straight, attractive girl. This is Reality TV but you will be acting as straight as possible. Your job is to not let the girl Know that your the gay guy in the show!!!"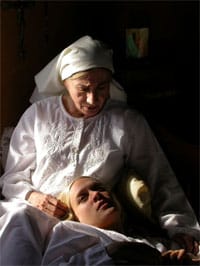 3 Needles to open this Friday on World AIDS Day. Proceed at your own Risk offers up a review: "Refreshingly this film has no gay characters and no gay story lines. That will likely drive the homophobes crazy since they seem incapable of moving past the dead-headed notion that AIDS is a gay disease. In fact, "3 Needles" leaves one with the powerful idea that the association between homosexuality and AIDS is downright idiotic."

Bulgarian pop singer Lora Ivanova struggles in court to change her name to 'Madona': "She claims that she wasn't copying pop icon Madonna, because she only wanted to spell her name with one 'n'."

Joel Stein mines FOX News commentator Sean Hannity's 'Hannidate' dating service for a man-on-man encounter: "Figuring this was an embarrassing oversight by the Hannity.com administrator who must have bought the dating service software from some liberal company, I immediately contacted Hannity, hoping he'd panic and cry and possibly use his bionic powers. But it turns out Hannity was well aware of the gay Hannidate feature and is fine with it."

Is the rise of Iran Bush's mortal wound? "While you could argue that many presidents face a six-year slump, has one ever included having to turn to the 'Axis of Evil' for help? The best part was the conclusion has pretty much already been reached – Maliki said Iraq should talk to Iran directly leaving the US on the sidelines. Thanks but no thanks George, you've done quite enough."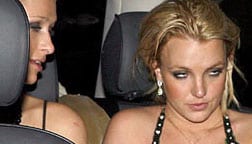 Britney caught under socialite's spell.

All David Beckham wants for Christmas is a non-stick frying pan.

Heterosexual police officer claims she was discriminated against on the force because she's not a lesbian: "Heterosexual female officers at the division were targeted for harassment and negative employment actions and were not given the same opportunities as lesbians, she alleges."