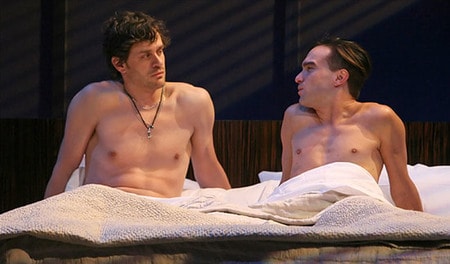 Since rent boys and closeted Hollywood actors have been in the news, I thought I'd point out that Douglas Carter Beane's The Little Dog Laughed starring Tom Everett Scott as a closeted Hollywood actor and Johnny Galecki as his rent boy, just moved to Broadway.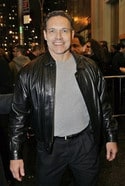 Haven't seen the show yet, but Julie White, whom the Times describes as a "Mephistopheles in Manolos" as a movie agent, reportedly steals it.
Says reviewer Ben Brantley: "What sets Mr. Beane apart from aspiring successors to Neil Simon is the comic poetry he finds in hypocrisy, deception and denial. Having toiled in the artificial vineyards of Hollywood as a screenwriter, Mr. Beane has understandably become an authority on these subjects."
Hypocrisy, deception, and denial: can a musical based on Haggard be far behind?
NOTE: As noted by our vigilant reader Brian in the chat box to the right, Ted Haggard 'exposer' Mike Jones was invited to the opening last night. I was able to dig up this shot of Jones arriving.
'Little Dog' is big fun [nydn]
The Stage Is Bigger, but It Still Can't Hold All Her Ambition [nyt]
(photo source)