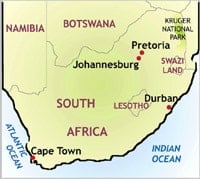 Becoming the first country on the African continent and the fifth in the world to do so, South Africa's parliament today voted to legalize same-sex marriage.
The "Civil Union Bill" passed by a vote of 230 to 41 with three abstentions.
According to the AP, "The bill provides for the 'voluntary union of two persons, which is solemnized and registered by either a marriage or civil union.' It does not specify whether they are heterosexual or homosexual partnerships. But it also says marriage officers need not perform a ceremony between same-sex couples if doing so would conflict with his or her 'conscience, religion and belief.'"
Supporters are happy that "marriage" is included in the language of the bill but some worry that the latter could leave couples searching for someone to marry them. Nevertheless, the bill was hailed as a victory by gay groups.
South Africa joins Canada, Belgium, The Netherlands, and Spain as countries where same-sex marriage is legal nationwide.
Melanie Judge of the gay rights advocacy group OUT, hailed the decision in an interview with the New York Times: "This has been a litmus test of our constitutional values. What does equality really mean? What does it look like? Equality does not exist on a sliding scale."
South Africa was the first country in the world to prohibit discrimination based on sexual orientation in its constitution, adopted when apartheid ended in 1994.