Openly gay Parti Québécois leader Andre Boisclair has been criticized for appearing in a TV sketch which parodies Brokeback Mountain.
The sketch features George Bush and Canadian Prime Minister Stephen Harper shirtless inside a pup tent. George Bush fondles his nipples before throwing two cherries at Harper. The cherries then appear strategically placed atop two mounds of whipped cream on Harper's chest. The tent unzips and Boisclair, peeking his head through, says "Quebec won't get mixed up in something like that."
The sketch, of course, was immediately broadcast over Canadian new networks, prompting criticism from those who felt that Boisclair's participation was not fitting of a statesman.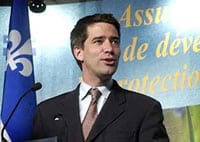 Boisclair appeared surprised by the negative reaction: "I did it in good faith and people will judge for themselves. But now that I see how much of a debate all of this has triggered, it's quite obvious I wouldn't do it again."
Of course, Boisclair has never been known for a platform of good behavior. When he was running for Parti Leader and acknowledged cocaine use, the candidate saw his popularity soar in the polls.
At the time, a former cabinet member attempted to explain that the reason for the jump was the mindset of the French Canadian voter: "We Quebecers fancy our heroes a little bit cheeky, defeatist, hesitant, unsure of themselves, alcoholic, a little or even a lot unreliable, a little bit fraudulent or even a little drugged. We like to say they are like us."
Even members fo his own party have come out against the sketch, but what will the people say?
The sketch is scheduled for broadcast on the Canadian station MusiMax on December 22, but you can see what the fuss is about right here:
You may have missed…
Quebec's Frontrunner for "Party" Leadership [tr]
Gay Man Elected Leader of Parti Quebecois [tr]