POLL: New Jersey residents prefer civil unions to gay marriages: "People in New Jersey are very supportive of equal rights, but the concept of marriage is more complicated. This is an issue people are struggling with. They seem to be trying to decide what is reasonable or fair."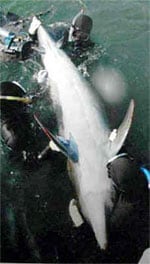 Does dolphin with four fins provide evolutionary link to land-based ancestor? "It is thought the dolphin's land-loving ancestors first crawled into the sea to escape predators or seek food between 50 million and 35 million years ago. Their hind legs became smaller and smaller before eventually disappearing altogether. The new aerodynamic shape reduced drag in the water, speeding their swimming."

Dick Cheney will spend election day hunting with his lesbian daughter Mary. Cheney hasn't been out hunting since he shot his friend Harry Whittington.


Our friend Joe Oppedisano will be celebrating the launch of his brand new 192-page book Testosterone
this Thursday November 9th from 5:30-7pm at Rizzoli at 31 West 57th Street in NYC. Joe, whose work I featured quite often in my stint at Genre magazine, prefers the hairy blue collar stud over the Abercrombie twink. Expect to see the former at his book launch this week, and look for a collection of his images this week at Undies Drawer. There's also a 2007 calendar
on the way.

Blogger put into a chokehold by Senator George Allen's staffers last week was taken into custody at Allen rally this weekend.