Pentecostal Pastor Becky Fischer's summer camp, featured in the recent documentary Jesus Camp, which we featured on the site a few weeks ago, has not survived Ted Haggard's gay escort scandal and will be shut down, for at least a few years. Haggard appeared in the film, preaching against homosexuality.
Said Fischer: "Right now we're just not a safe ministry."
They were never a safe ministry. Is it safe to indoctrinate children with hateful ideas? I think not. More revolting clips here.
Radar Online posts a revealing interview with gay escort Mike Jones today, in which Jones says that he believes Haggard's good friend James Dobson, the virulent anti-gay pastor who heads Focus on the Family, is gay as well.
Said Jones: "Dobson doesn't want any connection with him. Since this happened, lots of people have asked me if I think Dobson is gay, too. My answer to that is yes."
Dobson recently announced he would be leaving the team overseeing counseling for Ted Haggard. Said Dobson: "Emotionally and spiritually, I wanted to be of help – but the reality is I don't have the time to devote to such a critical responsibility." No time to minister the healing power of Jesus to a fellow pastor? For shame! I guess Dobson understands the reality of the situation in more ways than one.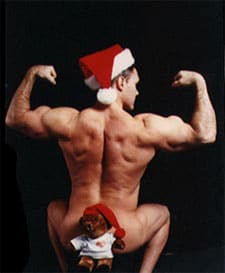 Jones also says he has received no contact from gay organizations like the Human Rights Campaign: "I don't know, but I can tell you that I am disappointed—and kind of hurt. You know, I put my life, my body on the line to expose this guy, and I expected some support from these organizations. At the very least some concern or contact."
But ironically, he's been thanked by people from Haggard's New Life Church: "When I was on a radio program down in Colorado Springs, they all thanked me. In fact, when I was checking into the hotel in Colorado Springs last night, the desk clerk, he goes, 'Are you the Mike Jones of….' I answered, 'Maybe.' And he said, 'I want you to know that I am from the New Life Church.' And he extended his hand and said, 'Thank you. You did us a service for Ted and our church so he can get the help he needs.'"
You may have missed…
Ted Haggard Letter: "I am Guilty…a Deceiver and a Liar" [tr]
Ted Haggard: Bought Meth, Didn't Use It; Received Massage, No Sex [tr]
Mike Jones Fails Lie Detector Test on Ted Haggard But Test Administrator Doubts Test's Accuracy [tr]
Ted Haggard Voicemails Analyzed; Pastor Admits to Indiscretions [tr]
Evangelical Leader Ted Haggard Steps Down After Gay Escort Claims They Had a Sexual Relationship for Three Years [tr]