South African parliamentary committee clears way for passage of same-sex marriage legislation: "The civil unions bill will go to a full session of parliament Tuesday. Despite the unease in the ANC ranks, it is expected to pass as lawmakers have been ordered to follow the party line and told there is little room for maneuver…South Africa recognized gay rights in the constitution adopted after apartheid ended in 1994 – the first in the world to prohibit discrimination on the basis of sexual orientation. But the government long opposed attempts to extend the definition of marriage in court to include same-sex couples in the mostly Christian country."


I vote 'yes' for Seann William Scott as porn-stached Gary the Tennis Coach.

Virginia Senator George Allen in hiding: "A senior Allen staffer tells CNN that the senator is 'sequestered in his home, 'shell shocked,' and going through 'a nightmare,' during this period of limbo.'"

Voting for the Gay Bloggies ends today!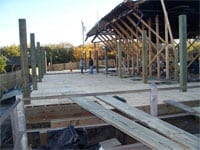 Fire Island Pines Pavilion begins to rise again…

Is Darwin, Australia becoming a new gay Mecca down under? "While the streets are not exactly lined with rainbow flags or feather boas, the legendary Northern Territory friendliness now seems to extend to the complete range of human beings, regardless of sexual orientation. With all the Paul Hogan wannabes running around in Outback drag, gaysbians are hardly remarkable on the streetscape. It's hard not to arouse a johnson for the easy styles of living in Australia's north."
Um, gaysbians?

Beyonce and Eva Longoria to play lesbian lovers in Sofia coppola-directed film adaptation of Tipping the Velvet: "Longoria says, 'Yes it's true, we're talking about doing that. It's such a wonderful novel, a beautiful love story.' Knowles adds, 'We've had Brokeback Mountain so the time is right for this divine novel to get the same treatment.'"