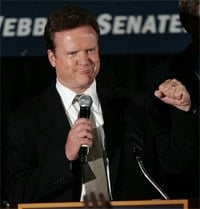 With nearly all post-election canvassing, completed Democrat Jim Webb defeated Republican Senator George Allen in the Virginia U.S. Senate race, handing control of Congress to the Democrats for the first time in 12 years!
Via AP: "The new AP count showed Webb with 1,172,538 votes and Allen with 1,165,302, a difference of 7,236. Virginia has had two statewide vote recounts in modern history, but both resulted in vote changes of no more than a few hundred votes."
A spokesman for Allen told the NYT that the Senator would "most likely concede if the canvass did not radically narrow the margin," which it hasn't.
Democrats now control both chambers of Congress for the first time since 1994.