You can own Ricky Martin's signed Vaio laptop. And well, if it's true what they say about old hard drives — that nothing on them is ever truly erased — who knows what the lucky winner might dig up.

Boy George and Little Britain's David Walliams had a bit of a catfight on Channel 4's The Big Fat Quiz Of The Year when George asked Walliams about his co-star Matt Lucas' wedding. Said Walliams: "Very nice thank you. It was great you weren't there." Apparently there's some bad blood between the two of them. According to comedian Russell Brand, who was also on the show, "Boy George thinks that Matt Lucas isn't a good example of homosexuality." Explained Walliams later: "There's a background to this. I wouldn't be mean for the sake of it."

AfterElton chooses its 2006 "Man of the Year".

Queer as Folk's Randy Harrison to play Tom Wingfield in Glass Menagerie production set to open in Minneapolis.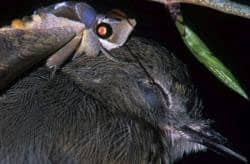 Freak Nature: Moth drinks the tears of sleeping birds.

Perhaps We Are Marshall should be renamed We are Matthew McConaughey's Pit Stains.

Gay rights groups applaud Palm Beach County School District after they unblock sites that offer support to gay and lesbian students: "Last March, an Inlet Grove High School senior published an investigative report disclosing that while Palm Beach County's teachers and students were denied access to gay-supportive web sites on the District's computer system, they could access the anti-gay web sites of the Traditional Values Coalition, the American Family Association, and Focus on the Family from any School District computer. Inletspin.com editor-in-chief Joe Dellosa, reported that the web sites of the Gay, Lesbian and Straight Education Network (www.glsen.org ), Gay-Straight Alliance Network (www.gsanetwork.org) and Parents and Friends of Lesbians and Gays (www.pflag.org) were among those being blocked by the School District."