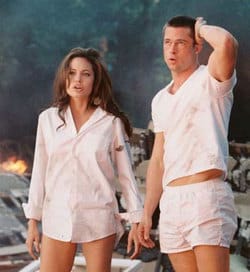 After reading the latest rumblings that Brad Pitt is to marry Angelina Jolie in a fairytale Christmas wedding in South Africa, I thought back to Pitt's statement to Esquire magazine in September.
In an article titled "Fifteen Things I Think Everyone Should Know," Pitt told the magazine: "Angie and I will consider tying the knot when everyone else in the country who wants to be married is legally able."
Of course everyone assumed that "the country" meant Pitt's own—America—which would mean Brangelina might be waiting a very long time to tie the knot.
However, as South Africa has recently legalized same-sex unions, Brangelina wouldn't have to worry about breaking that fairly major promise if they marry there.
Pretty sneaky, Pitt.
You may have missed…
Brad Pitt Will March Down the Aisle When the Gays Can [tr]
South Africa's First Gay Wedding Photos [tr]
Brad Pitt's Blue Wet Dream [tr]