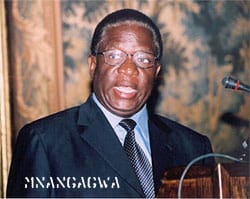 The trend of 'outing' figures in government has reached Zimbabwe.
A Parliament discussion of South Africa's recent legalization of same-sex unions became heated this week when an opposition legislator accused several Zimbabwean officials of being gay.
Homosexuality is still a crime in Zimbabwe. Reaction from the acting leader of the ruling party was swift.
Said Emmerson Mnangagwa: "In Zimbabwe, we are very clear that men marry women and women get married to men. In Zimbabwe we prohibit marriages of similar sexes. We have no duty to criticize laws passed by another parliament."
Zimbabwean President Robert Mugabe earlier this year threatened to arrest any clergy who performed gay marriages in the country and warned his supporters of the evils of homosexuality, saying "Leave whites to do that."