Van Smith, who designed costumes for John Waters' films and did the make-up for the first six, died of a heart attack in Florida last week. He was 61.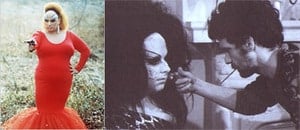 Smith was credited for setting a new standard in drag for the over-the-top camp persona he created for Harris Glenn Milstead, aka Divine. Waters told the NYT that Smith's creation was a revelation: "When we started in those days, drag queens were square. They hated Divine: they wanted to be Bess Myerson. And Divine would show up in a see-through miniskirt with a chainsaw instead of a pocketbook."
"The Divine look, which Mr. Smith first created in 1972 for 'Pink Flamingos,' had three components. First was the hair, shaved back to the crown to allow more room for eye makeup. Second was the makeup, acres of eye shadow topped by McDonald's-arch eyebrows; lashes so long they preceded the wearer; and a huge scarlet mouth. Third were the clothes: shimmering, skintight numbers that gave a larger-then-life female sensuality. The net effect, as Mr. Smith ordained it, was a cross between Jayne Mansfield and Clarabell the Clown."
Among Smith's creative applications for everyday items were the use of egg whites for peeling skin, potato chips that would appear as yellowy plaque on teeth, and fake breasts filled with lentils because they afforded a more natural movement.