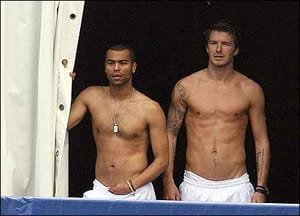 Metropolitan police and officials from the Arsenal and Chelsea football clubs plan to exercise a zero tolerance policy on homophobic fans this weekend as the two clubs come together.
Some Arsenal fan groups have been urging supporters to bring inflatable mobile phones and fake banknotes bearing the image of footballer Ashley Cole in a tiara to this weekend's match in order to taunt Cole about rumors he is gay.
Cole won damages from British tabloids earlier this year after they printed the story suggesting that Cole had been involved in gay orgies and the use of a mobile phone figured prominently in the sexcapades. Arsenal fans, picking up on this, have apparently chosen to mock Cole based on these allegations and authorities, hoping to put an end to homophobia in professional football, will have none of it.
Towleroad has obtained a copy of the fake banknote (below)in which the Queen's image has been replaced by that of Cole. Stewards at this weekend's match plan to distribute leaflets, search suspected fans for homophobic materials, and broadcast anti-homophobic messages on the big screen.
It's great to see officials doing something about this, even though I think Cole looks pretty regal as the Queen.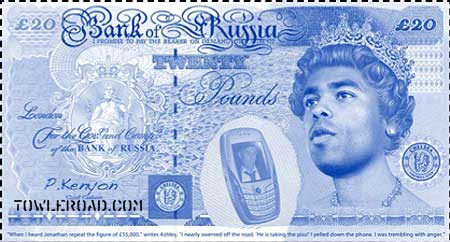 You may have missed…
British Tabs Claim Gay Three-Way Call By Footballers [tr]
Athletics and Affection [tr]
Footballer Sues Brit Tabs Over Gay Orgy Claims [tr]