CNET Editor James Kim found dead in Oregon wilderness after heroic effort to save stranded family.
Freak Nature: Hundreds left homeless as tornado rips through North London.
Little Britain star Matt Lucas being considered to play Friar Tuck in new Robin Hood series.
Gay housemate Davis lets N-word fly in boozed up Real World conflict: "Davis and Tyrie's confrontation was horrifying because Davis called his black roommate the n-word, showing MTV's audience that gay guys can be confrontational, obnoxious racists, too. But it was also horrifying because the entire thing happened because both of them were drunk out of their minds, and because everything received a neat, clean resolution once they sobered up, as if blind drunkenness is an acceptable excuse for fighting or racism."
David Beckham is Britain's richest footballer, worth $171 million.
Britney Spears' va-jay-jay speaks…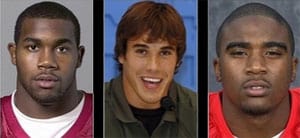 Heisman contenders down to three: Darren McFadden, Brady Quinn, and Troy Smith.
STUDY: Global warming creating famine in tropical oceans. "The finding, which has long been predicted by computer models, suggests that as warming continues, fish stocks in tropical and sub-tropical regions will drop significantly. The study showed that in some ocean regions microscopic plants in the plankton, known as phytoplankton, respond to rising temperatures by scaling down their productivity by 30% or more. With less production at the bottom of the food chain, fish and other large ocean creatures have less to eat."
American Idol contestant Elliott Yamin re-emerges with Christmas song and set of new teeth.
Gay porn producer Matt Sterling dies.