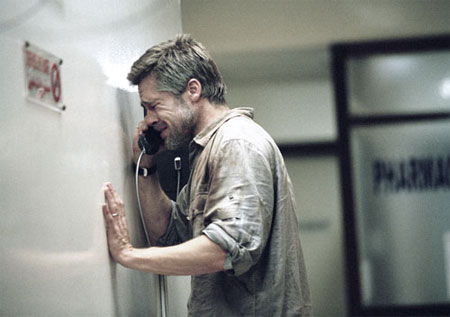 Babel led the pack with seven nominations, including Best Drama and Best Supporting Actor for Brad Pitt. Dreamgirls was nominated for Best Comedy or Musical – Beyoncé, Jennifer Hudson, and Eddie Murphy all received noms in their respective categories. Helen Mirren was nominated in The Queen, which also took a nod for Best Drama.
Check 'em out, after the jump…
BEST DRAMA
Babel
Bobby
The Departed
Little Children
The Queen
BEST COMEDY OR MUSICAL
Borat
The Devil Wears Prada
Dreamgirls
Little Miss Sunshine
Thank you for Smoking
BEST ACTOR IN A DRAMA
Leonardo DiCaprio ("Blood Diamond" and "The Departed")
Peter O'Toole ("Venus")
Will Smith ("The Pursuit of Happyness")
Forest Whitaker ("The Last King of Scotland")
BEST ACTRESS IN A DRAMA
Penelope Cruz ("Volver")
Judi Dench ("Notes on a Scandal")
Maggie Gyllenhaal ("Sherry Baby")
Helen Mirren ("The Queen")
Kate Winslet ("Little Children")
BEST ACTOR IN COMEDY OR MUSICAL
Sasha Baron Cohen ("Borat")
Johnny Depp ("Pirates of the Caribbean: Dead Man's Chest")
Aaron Eckhart ("Thank You for Smoking")
Chiwetel Ejiofor ("Kinky Boots")
Will Ferrell ("Stranger Than Fiction")
BEST ACTRESS IN COMEDY OR MUSICAL
Annette Bening ("Running with Scissors')
Toni Collette ("Little Miss Sunshine")
Beyonce Knowles ("Dreamgirls")
Meryl Streep ("The Devil Wears Prada")
Renee Zellweger ("Miss Potter")
BEST DIRECTOR
Clint Eastwood ("Flags of Our Fathers" and "Letters From Iwo Jima")
Stephen Frears ("The Queen")
Alejandro Gonzalez Inarritu ("Babel")
Martin Scorsese ("The Departed")
BEST SUPPORTING ACTOR
Ben Affleck ("Hollywoodland")
Eddie Murphy ("Dreamgirls")
Jack Nicholson ("The Departed")
Brad Pitt ("Babel")
Mark Wahlberg ("The Departed").
BEST SUPPORTING ACTRESS
Adriana Barraza ("Babel")
Cate Blanchett ("Notes on a Scandal")
Emily Blunt ("The Devil Wears Prada")
Jennifer Hudson ("Dreamgirls")
Kikuchi Rinko ("Babel")
BEST FOREIGN FILM
Apocalypto
LEtters from Iwo Jima
The Lives of Others
Pan's Labyrinth
Volver
BEST SCREENPLAY
Babel
Little Children
Notes on a Scandal
The Departed
The Queen
BEST ANIMATED FILM
Cars
Happy Feet
Monster House
BEST TV DRAMA SERIES
24
Big Love
Grey's Anatomy
Heroes
Lost
BEST DRAMA ACTOR
Patrick Dempsey, Grey's Anatomy
Keifer Sutherland, 24
Bill Paxton, Big Love
Hugh Laurie, House
Michael C. Hall, Dexter
BEST DRAMA ACTRESS
Patricia Arquette, Medium
Evangeline Lilly, Lost
Edie Falco, The Sopranos
Ellen Pompeio, Grey's Anatomy
Kyra Sedgwick, The Closer
BEST COMEDY SERIES
Ugly Betty
Weeds
Entourage
The Office
Desperate Housewives
BEST COMEDY ACTOR
Alec Baldwin, 30 Rock
Steve Carell, The Office
Jason Lee, My Name is Earl
Zach Braff, Scrubs
BEST COMEDY ACTRESS
America Ferrera, Ugly Betty
Marcia Cross, Desperate Housewives
Felicity Huffman, Desperate Housewives
Julie Louis-Dreyfuss, New Adventure of Old Christine
Mary Louise Parker, Weeds