Overnight brain surgery on South Dakota Senator Tim Johnson, who was admitted to the hospital yesterday after suffering "stroke-like" symptoms, was reportedly successful, doctors told CNN this morning: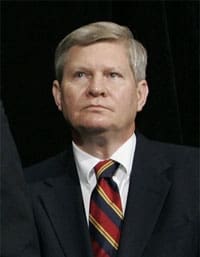 "Johnson, 59, was out of surgery at 12:30 a.m. Thursday, a source close to the senator told CNN. He was hospitalized Wednesday morning after he appeared to suffer stroke-like symptoms.

Adm. John Eisold, attending physician of the U.S. Capitol, told CNN that Johnson had 'an intracerebral bleed caused by a congenital arteriovenous malformation. He underwent successful surgery to evacuate the blood and stabilize the malformation.'

'It is premature to determine whether further surgery will be required or to assess any long term prognosis,' Eisold said."
Johnson remains in critical condition.
Johnson, a Democrat, was elected to the Senate in 1996 after serving five terms in the U.S. House of Representatives. He serves on the Senate Appropriations Committee, the Senate Budget Committee, the Senate Banking Committee, the Senate Energy and Natural Resources Committee, and the Senate Indian Affairs Committee.
If Johnson were unable to serve the rest of his term, South Dakota's Republican Governor Mike Rounds would nominate his replacement which would shift the balance of power in the Senate, giving parties a 50-50 split. The GOP would then retain control with Dick Cheney's tie-breaking vote.