Dreamgirls had its Hollywood premiere Monday night at the Wilshire Theater. Check out a few glam shots from the red carpet here, including an appearance from McSteamy himself, Eric Dane.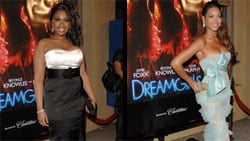 Notably absent was the original 'Effie' Jennifer Holliday, who tells the L.A. Times what she told Wendy Williams last week— that she's still feeling "swept aside" by Paramount and Dreamworks. She claims the studios "disinvited" her to the premiere and have not approached her to do any publicity:
"Why is it necessary for them to wipe out my existence in order for them to have their success? It's scary that they can be so cruel. I know it's business, but why do they have to go to this extreme? I'm a human being. I need to work too. Why do I have to die to make them a winner?"
According to the article, the studio has taken a "no comment" policy on Holliday.
Sheryl Lee Ralph apparently also feels "shut out of the Dreamgirls blitz" according to the LAT, although she did make an appearance at the Hollywood premiere.
Loretta Devine, another member of the original Dreamgirls makes a cameo in the new film, and at the screening I saw, received an ovation from the audience. So far, no protests from her camp.
Out of the picture [la times]