Tickets for Diana Concert sell out in minutes.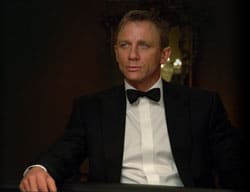 Hot property: Daniel Craig's tuxedo from Casino Royale just fetched £12,000 at auction.

The New Jersey Senate has banned a pastor who spoke out against gay marriage at a Senate invocation the day the Senate approved a bill that would legalize same-sex unions. Pastor: "We curse the spirit that would come to bring about same-sex marriage. We ask you to just look over this place today, cause them to be shaken in their very heart in uprightness."

Durex condom users vote Daniel Craig "world's sexiest man."

Lesbian student sues Orange County school district for $1.3 million for 'outing' her to her mother. School told mom that her daughter had kissed another girl: "It's not a blatant disclosure of sexual orientation. Schools want to provide as much information as possible to parents about a suspension."

Headed to Berlin over the holidays? The Berlin Paper has a short guide to the top gay events in that city.

Dem bones: Trump plans for "condo hotel" stymied after human remains from a 19th century Presbyterian graveyard are unearthed.


Spanish Prime Minister Zapatero criticized for pushing Spain too far to the left. Spokesman: "When people say he's going too fast, he says, 'Go ask gay couples or other groups who have been denied their rights if I'm going too fast.'"

It's All True: A great new track from Everything But the Girl's Tracy Thorn. In other music news "The Drugs Don't Work" by the Verve has been assessed by an expert to be the saddest song ever. The happiest songs may not surprise you.

Has the Arctic ice cap reached a tipping point? "A team of scientists from the United States and Canada has found new evidence about the rapid melting of ice in the Arctic. Data presented at a meeting of the American Geophysical Union suggests all year-round ice could disappear by the year 2040. The scientists also believe recent research shows a tipping point which would trigger a rapid melting is fast approaching."