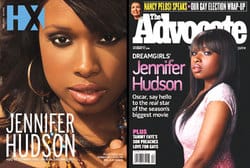 Newly-minted Dreamgirls diva Jennifer Hudson stepped into precarious territory (as both Carol Channing and fellow American Idol contestant Mandisa well know) in an interview with the Dallas Voice in which the ingenue was asked about the Bible and homosexuality:
As a Baptist who's singing at circuit party, has Hudson reconciled her spiritual beliefs and her gay fan base? Does she support same-sex marriage?
"Nobody has ever asked me these questions," she says.
"Everybody sins," Hudson continues. "No sin is greater or different than the other. To each his own. If it don't bother Jennifer, then Jennifer don't mind. I don't really even think about it because I don't believe in judging people for what they do."

When referencing themselves, lots of divas probably do that schizophrenic thing where they toggle between first and third person. But did Hudson just say that being gay is a sin?

"According to the way we're taught, and what it says in the Bible — it is," Hudson says.

If her answers didn't already sound like fundamentalist clichés, Hudson then added, "I have plenty of gay friends."
A writer fishing for some controversy in a topic which has already ensnared one American Idol contestant (Mandisa was sent packing soon after her interest in Bible-thumping Beth Moore was uncovered) and a seasoned performer (Carol Channing's recent BibleGate)?
Considering what Hudson told New York's gay mag. HX ("I think the world of the gay community, and I feel like it's an honor. The gay community is the hardest community to please, so if they love me, I must be fierce, honey.") and the Carol Channing misinformation, we'll put this scandal on hold before jumping to any conclusions.
ADDENDUM: Hudson responds:
In a recent interview, I was asked how I reconciled being a Christian with performing at events for my gay fans. I find it upsetting that some folks equate being a Christian with being intolerant of gay people. That may, unfortunately, be true for some, but it is not true for me. I have talked often of my love and support of the gay community. I have said again and again that it was the gay community that supported me long before and long after AMERICAN IDOL, and kept me working and motivated. It is the gay community that celebrated my voice and my size and my personality long before DREAMGIRLS. Yes, I was raised Baptist. Yes, I was taught that the Bible has certain views on homosexuality. The Bible also teaches us not to judge. It teaches on homosexuality. The Bible also teaches us not to judge. It teaches us to love one another as God loves us all. I love my sister, my two best friends and my director dearly. They happen to be gay. So what? While some search for controversy, I hope that my friends and fans who know me, know where I stand."
Related articles
Jennifer Hudson Not Judging Her Gay Fans On Their Lifestyle Sins [defamer]
Once upon a Dreamgirl [the advocate]
Boys, She'll Make You Happy [hx]
You may have missed…
Jennifer Holliday: "I'm Not Going" [tr]
Dreamgirls: A Review — In a Dazzling Adaptation, Jennifer Hudson Rockets to Fame [tr]