Pittsburgh Steeler Joey Porter issued an apology after practice on Tuesday for calling Cleveland tight end Kellen Winslow, Jr. a "fag" in comments to media outlets after a game last Thursday.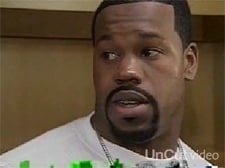 "You know, that was probably a poor choice of words. So if I offended anybody, I apologize for that…I don't know … I guess because how we used that word freely, me growing up using that word, I didn't think anything of it. Like I said, I apologize to anyone I may have offended. I didn't mean to offend anybody but Kellen Winslow. That's pretty much that. I don't want to put any more into it…Whatever I say is going to be on an extra level anyway. But like I said, I didn't think it was that big of a deal when I said it anyway. So it's over with it."
Porter just doesn't get it. Would Michael Richards use of the N-word been any less offensive if he had insisted he only meant it for one person in his audience?
And apparently coach Bill Cowher and teammate Deshea Townsend don't get it either:
"On Monday, Steelers coach Bill Cowher called Porter's homosexual reference 'inappropriate,' but suggested that Porter wasn't necessarily attacking anyone's sexual preference. Steelers cornerback Deshea Townsend agrees. 'That's how the game goes,' Townsend said. 'Joey was just expressing his opinion after someone cheap-shotted one of our guys. Joey was just standing up for one of his teammates.'"
Since when does the word "fag" not attack anyone's sexual preference?
A fine from the NFL has not yet been issued.
You may have missed…
Pittsburgh Steeler Joey Porter Calls Opponent a Fag [tr]