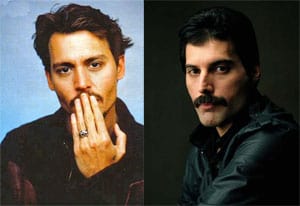 Johnny Depp is reportedly being considered for the starring role in a new biopic about the life of Freddie Mercury in development by Robert De Niro's Tribeca Productions according to Queen guitarist Brian May.
Responding to an inquiry from a fan on his website about the rumored casting, May responded: "Discussions are at an early stage …. I don't know where this story came from, but I think someone in the media, as usual, has taken a punt … of course these opportunists have little to lose … who cares about truth these days? Certainly not the tabloid press. But you're right about one thing … Johnny Depp is fantastic. He would be a worthy counterpart for Freddie on screen. I don't think I can say any more right now."
Seems like an excellent choice to me. However, he will need to grow some hair on his chest.
You may have missed…
Zanzibar Muslims Shun Freddie Mercury [tr]