Lance Bass and Reichen Lehmkuhl, given HRC's Visibility Award earlier this year, suddenly aren't that interested in the spotlight. The couple released a statement to People, the outlet that earlier this year broke Lance's coming out, saying that although they've split, they're trying to work things out: "We remain the best of friends. Please respect our privacy as we try to work things out during this difficult time." Their request may go unheeded.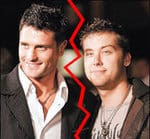 Page Six offers an entirely different, more dramatic picture: "Not only did Lance Bass finally kick Reichen Lehmkuhl to the curb – we hear he's already got another man. At the opening of Sunset Beach in L.A. the other day, Bass showed up with 'a very attractive man as his date,' said our spy. Bass refused to pose for pictures with the stranger, and snuck in and out of the side entrance. Page Six first reported the troubles Bass and Lehmkuhl were having due to the former Marine's insistence on Bass dropping his straight friends and not having a full-time job. Bass' friends also think Lehmkuhl maneuvered the former *NSYNC-er into coming out at the same time as his book debut, 'Here's What We'll Say.'"

And Curbed LA notes that Reichen (despite some license issues) may be back in the real estate business with a $5 million+ listing at Sotheby's Beverly Hills.
Who knows what the real status of the unambiguously gay duo truly is…however, if you court media attention I suppose you can't expect it to go away quickly. And would it surprise anyone if People announces they're back together by next week?